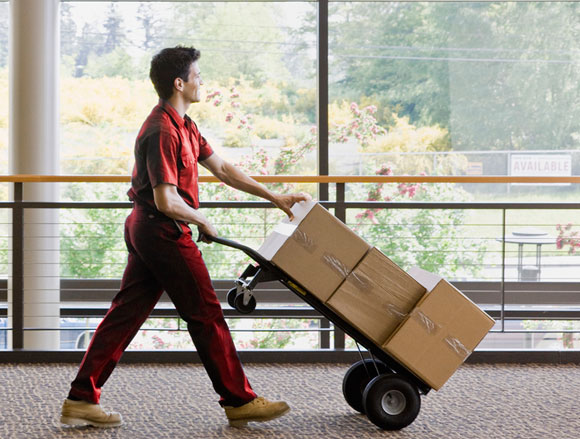 Full Warehouse, Office, or Retail Store Moves
Full Packing and Detailed Inventory
Systems Furniture Disassembly and Reassembly
Trust one of the Leading Office Moving Companies in Calgary!
As a business person, you know that moving your business offers up a variety of challenges that a residential move does not have to consider. The biggest of them is downtime, and the number of hours your business ceases operating. After all, you can't sell your store stock if they're packed and in transit, and you can't tend to your clients' requests if your systems are offline.
A truly efficient moving service can minimize downtime, with careful planning and detailed organizing ensuring your move is completed with no time wasted – that's exactly what you can expect from Viktoria Professional Movers Calgary.
We have a proven track record in handling commercial and office moves of every size. With a dedicated moving coordinator at your disposal, and organizing expertise that ensures every little detail is covered, you can be sure that relocating your business, whether across town or across North America, is done swiftly and diligently.
Your Move, Your Way
Because every business is unique, we have developed a unique approach to office, warehouse, and retail store relocation. Instead of offering a set moving service that's built for speed, we focus on the specific aspects of your operation you value most. That way, we can target the features of your operation you need back up and running most urgently, and get them so.
It's our commitment to the unique aspects of your business that makes us one of the leading office moving companies in Calgary, and among the best people to entrust your move to.
There are 3 key concerns that our commercial clients look at, each of which we consider equally significant:
Minimal downtime – No business can afford to be out of operation for long. Our highly efficient teams work fast to ensure our clients get back to full throttle as close to immediately as possible.
Flexible scheduling – It can be difficult for a busy business to find the right time to make the move. We work with our clients on a schedule that matches when they can, not when we want.
Straightforward pricing – No hidden charges, no unexpected additions.
Some of the key elements of our business and office moving services include:
Full packing and detailed inventory
Equipment and storage bin rental
Systems furniture disassembly and reassembly
Work station disconnection and reconnection (includes computers and network cabling)
Short and long term storage solutions
Full warehouse moving
Racking removal and relocation
Skid moving
Garbage and junk removal
Dedicated Moving Coordinator
We assign a dedicated moving coordinator to oversee every aspect of the move from start to finish. Your coordinator will meet you on-site to provide a free estimate while completing a thorough analysis of your specific needs to design a strategy that prioritizes the most vital areas to daily operations.
And because your coordinator works diligently in the background, there is minimum disruption, thereby minimizing revenue losses and maximizing productivity during the moving process.
At Viktoria Professional Movers Calgary, our understanding of our clients' needs has helped us become one of the best office and commercial movers. For more about what we can offer you, call us Toll Free at 1(877) 399-1315 or (587) 779-7729 for more information or to schedule a free on-site estimate!